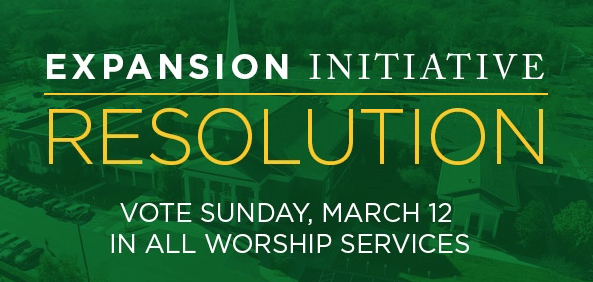 At last night's Family Forum, the Elders and members of the Building, Capital Campaign and Communications Expansion Initiative Task Forces presented their final recommendations, as well as the driving forces behind them. The Elders also brought forward a resolution to be voted on this coming Sunday, March 12 (without discussion) in all morning worship service that—in an effort to better accommodate current growth and in anticipation of our EACH ONE strategy—they believe will help our church better reach young families, enhance our ability to disciple believers through Sunday School and continue unifying our church.
As you prayerfully consider how you will vote on the resolution this coming Sunday, if you were not at the Family Forum, we wanted you to be able to…
(Copies of the resolution are also available in the church office.)
God is alive and active here, and this is a exciting time to be part of Forest Hills Baptist Church!